December 2nd, 2021 at 04:46 pm
I can't believe it is now the last month of the year!
November Spending:
Category - Nov Spending/YTD Spending: Context. This spending does not include bills, just variable spending that I can control.
Alcohol - $81.25/$361.05: this was wine for Thanksgiving. I bought 3 bottles, we only had 2, so I will retrieve the other bottle from my mom's house this weekend and put it in my own fridge ha. This is REALLY not bad considering that we are 11/12 of the way through the year - a few years ago, I was a huge wine aficiciando and my annual wine spending was much higher.
Car/Gas - $170.49/$644.53: ugh. I got a notice in the mail about a parking ticket from Feb 2020 that I apparently never paid, so of course the fees were through the roof. I can afford to pay it, so I just did, grumbling the entire time. I also got gas somewhere in there. I still have not yet dealt with my tires....maybe later this month since I am off the last two weeks of the year.
Clothing - 0/$1518.91: no spend here is surprising - I do need to pick up a few things, and will probably take advantage of great sales this month to do so.
Dining/Entertainment - $187.11/$2166.24: still wayyyy toooooo high. My best friend is coming into town for a few weeks this month, though, so I don't expect it to be much lower in December.
Education - $65.01/$1087.60: this was for a study resource for the 3 remaining CLEP exams I am taking. I was planning to take them in November, but was so busy that I ultimately decided to push them to December. Unfortunately, I did not make any use of this study resource in November, and now need to pay for December. But I decided that "wasting" $65 was far better than over-burdening myself, and while I shouldn't spend it, I can afford to. Not sure if I will need any books for my spring classes, or if I would find out what those are before the end of the year, so December should be similar.
Gifts - $268.91/$843.4: got most of my Christmas shopping done (I only buy for mom, sister and brother). I have a few more things I want to pick up that will hit this month's spending, but overall, looks pretty good for a full year.
Grocery/Household/Toiletries - $609.71/$6001.23: this was about middle of the road, and since I wasn't trying to be especially frugal, it's fine. As of right now, it's my largest monthly expense by FAR when looking at YTD totals.
Medical - $67.05/$1032.28: this was a co-pay and my responsibility for some bloodwork. Seeing this number makes me feel good about fully funding the FSA for next year - everything in this category would have been covered.
Miscellaneous - $1267.70/$1853.35: as mentioned, I bought a fancy spin bike this month

The $250 from my wellness reimbursement that I should get in my Dec 15th paycheck will be credited against this category. The majority of my spending this year has been on health and wellness, so that will have its own category in 2022.
Office Supplies - 0/$106.92: another no spend category, woo!
Personal Care - $498.50/$2503.71: another hair appointment, this one for a haircut and color. I also had to re-up on some of my pricey products, immediately after placing an order for one of them, I found it at a better deal elsewhere, so I need to return the first one (couldn't cancel the order). I'll do that today, so the return will be reflected in December.
Pet - $70.79/$1107.18: food and litter. For the first time ever, I placed a pet supplies order and did not buy them any new toys lol. The nerve of me, I hope they can forgive me haha.
Subscriptions - $88.99/$428.31: this includes the monthly subscription for my spin bike, cloud storage for my phone plan, and a prepared meal box that I had gotten a free trial of and then didn't cancel in time to avoid a new one being sent/shipped. Oh well. I have since cancelled, so will not have to keep an eye on it.
Travel - 0/$2206.69: nothing in November, although the airline did attempt to charge my card for the seat upgrade back in July the other day. It's a debit card, and I always turn overdraft protection off, and there was not enough in the account, so the charge was declined. Haven't decided what I am going to do there, if I am going to transfer the money back into that account and if they attempt it again, so be it. Not sure what my responsibility is here at this point. The funds were there when I made the purchase, and for several months after the fact.
Total - $3375.51/$21861.41: wow this is a big number, but really helpful to now have a full year's worth of data (well almost) to make projections for next year.
November Summary with MoM: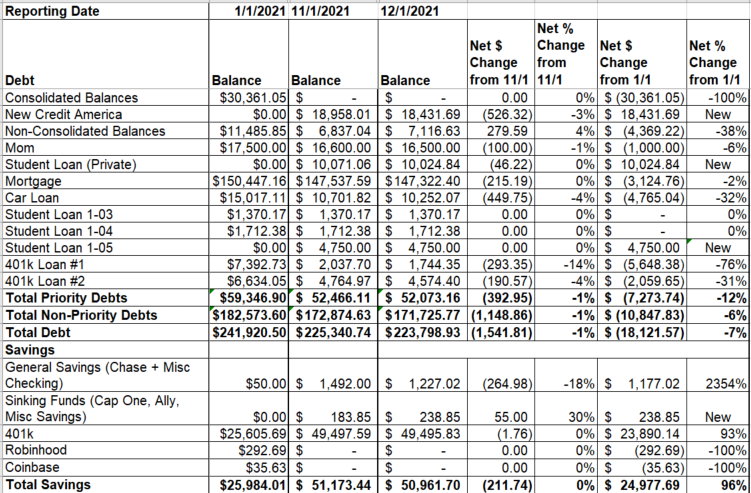 As always, this does not include the 401k contribution/loan payments from my 11/30 paycheck, they have not posted yet. My 401k did hit that "increased 100% this year" milestone a few weeks ago, but the market is down so blah. I also had to take a little money out of savings, but not too much and I am already focusing on putting it back.
Overall, I'm very happy. Less progress in November than some other months, but looking at it over the course of the year is breathtaking.